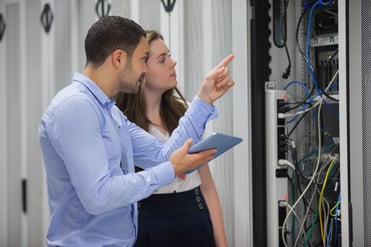 If you're worried about the security of your property, there are a lot of steps you can take. However, if you're not a professional, it can be hard to know what those steps are. That's where a security risk assessment comes in. It's a great option for anyone looking to implement or expand a security system, because it gives you a chance to learn from the experts. Read below to discover the benefits of using a security risk assessment to help you figure out the best ways to improve the security of your property.
Benefits
Prevent Security Breaches
Even if you've never had security problems, a risk assessment is a great way to predict your likelihood of having one. Specialists will identify all possible security risks and address them accordingly. When all of your risks have been taken care of, you stand a good chance of preventing any future security breaches.
Improve Your Current System
You might think that you have a great security system, but it's hard to know what aspects can be improved on. Our experts will come in and work with your staff to identify problem areas and points of weakness. The collaboration between our staff and yours will result in a more effective security system that will cover more ground and help keep your building secure.
Identify Ideal CCTV System Placement
One of the benefits of bringing in the experts is their ability to identify the best spots for your surveillance equipment. They will provide you with useful tips on proper placement such as ensuring cameras are both hidden and visible, they are placed at a higher location, and they cover all entry points. Experts will work with your staff to identify the best place for your cameras to maximize visibility and coverage of your security system to improve your property's overall security.
Signs You're in Need of a Security Risk Assessment
If you don't have any sort of security system in place, it's clear you can benefit from assessment. However, many people who already have security systems do not realize that they could still benefit from an assessment. If you have grainy footage or are struggling to see images on your system, an assessment can help. If you can't tell when your system is down, it's another major warning sign.
If your alarm system is hardwired or you can't easily expand your system, it's time for an upgrade. Additionally, if your system does not have any remote monitoring capabilities, you can benefit from an assessment. The assessment will help you understand the way your system currently functions and the improvements that can be made. It's important to have a properly functioning system to ensure as much safety and security as possible.
Security System Elements
After your assessment, you will receive recommendations for security measures you can take for improvement. Some of common elements to physical security systems that may be recommended include:
Video (cameras, CCTVs, monitors, and encoders)
Access controls (gates, sensors, doors and locks, panels, alarms, and biometrics)
Communications (WAN/LAN and phone lines)
Padlocks and keys
Roofs, rooms, and other safety areas
Security guards
These various elements will help improve the security of your property. When used in accordance with a specialist's recommendation, your property will be more safe and secure than ever before.
United Security Incorporated | Custom Security Solutions
We can offer all types of business fully integrated and custom security solutions. We're proud of our decades of experience in serving a wide variety of industries including warehouse, construction, retail facilities, schools, multi-tenant office buildings and much more.
When it comes to the security of your building, it's best not to leave it up to chance. Be sure that you have made every effort possible to keep your property, employees, and visitors well protected. If you have any concerns, you should consider having your security measures evaluated by a reputable company.