With the weather getting warmer and Memorial Day behind us, summer is officially here. Before we know it, everyone will be spending their afternoons and weekends barbecuing, going to the beach, and spending as much time outside as possible. During the summer, there are many different types of events specific to this time of the year. These events often draw large crowds and excitement that can be great for attendees' enjoyment. However, without proper planning, there are serious security issues that can occur at these events. One of the best things that event hosts and property owners can do ensure security at these venues and events is to hire security officers. We've broken down the top benefits for hiring security officers and listed some of the top uses during the summertime to keep you informed and help keep your event safe and secure.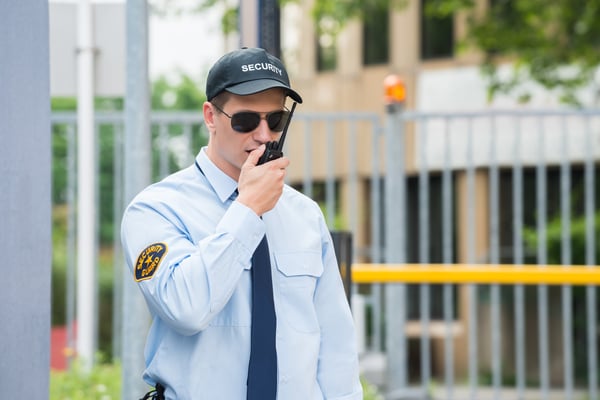 What are the Benefits of Hiring Security Officers?
Crowd Control
Security officers are highly trained to handle large crowds. They will be able to stop any unruly guests from making trouble in a crowd and causing problems. They can also provide clear instructions to keep people in the right areas. In the event of an emergency, they will keep everyone calm and help direct large crowds to avoid chaos.
Monitor the Area
Security officers will monitor your event, especially the perimeter. They can keep watch for any suspicious behavior and prevent any uninvited visitors from entering the area. When you hire security officers, they will ensure that everything runs smoothly and will monitor the area, watching for suspicious behavior to address issues before they occur.
Deter and Stop Crime
While watching for suspicious behavior, security officers are actually deterring crime. When people see security officers, they are less likely to commit crimes out of fear of getting caught. If a crime does occur, security officers are well equipped to stop the criminal before any harm is done.
Enforce Rules
Security officers are a great resource to keep the peace and ensure that everything runs smoothly. They will enforce rules, encouraging everyone to act appropriately. If there is alcohol at your event, security officers can keep unruly guests at bay and make sure that everyone is safe. They will also ensure that guests stay out of any restricted areas, do not bring in unauthorized items, and follow any other rules set for your event.
Customer Service
If you're working with a large area, security officers will also provide a friendly face. People will feel comfortable coming up to uniformed security officers to ask questions or for directions. Well-trained uniformed security officers can provide an added level of customer service and represent your event well.
Top Uses for Security Officers This Summer
1. Concerts
During the summer, many different venues hold outdoor concerts. These concerts will attract thousands of guests, bringing large crowds, often intoxicated by alcohol. Security officers can help control these crowds and help stop any issues before they start. Security officers can stop fights from happening and keep unruly concertgoers at bay. They can also deny entry to patrons who are intoxicated or aggressive and efficiently escort any unruly patrons out of the concert area. Hiring security officers at concerts will ensure that performers, attendees, employees, and equipment are all kept safe.
2. Road Races
5k's, half marathons, and other road races are extremely common in the summer months. Hundreds, sometimes even thousands, of runners visit an area to run a race, accompanied by their families and friends to cheer them on. Typically, there is little or no fee to watch these races, attracting large crowds. Security officers can help keep these crowds under control and monitor for any suspicious activity. They can also make sure any prohibited items do not enter the racing area and can block off key points in the race such as the start and finish lines.
3. Outdoor Shopping Centers
Some outdoor shopping centers are open year round, but traffic during the summer months is exponentially heavier than other times of the year. When busy summer sales hit the stores, security officers can be very useful in crowd control efforts. When the high foot traffic leads to an increase in shoplifting, security officers can serve as a deterrent and can also catch shoplifters in the act. If any other issues such as vandalism, fighting, or other petty crimes occur in the outdoor areas of the shopping center, security officers will be there to stop it.
4. Festivals
County fairs, carnivals, music festivals, and other sorts of outdoor festivals are very popular during the summer months. These events come with large crowds, making security officers helpful to keep everything running smoothly. They can also help maintain lines to wait for rides and protect any areas in which money is kept. During these events, security officers are also often placed at entrances to check for prohibited items and deny entry to any guests who might be intoxicated.
5. Beaches
During the summer, beaches become crowded. Security officers are helpful to keep beaches safe. Often times, beaches have rules about dogs, alcohol, and more. Security officers can help enforce these rules and monitor the beach, making sure everyone is safe and stopping any prohibited activity.
6. Sporting Events
Security officers can help keep sporting events secure. They will monitor entrances, making sure only those with tickets enter and that everyone who enters is free of prohibited items. Security officers can also monitor parking lots to ensure that tailgates do not get out of hand. During sports games, fans can often become disorderly or aggressive due to consumption of alcohol, the outcome of the game, or both. Security officers can also be useful in keeping these situations under control and making sure everyone leaves safely.
7. Fireworks Displays
During the summer, different towns and areas hold fireworks displays. These displays often attract large crowds as well as food trucks and vendors. Security officers can be helpful at these events to help direct traffic and make sure everyone is safe. Because these types of events typically do not have any sort of entry process, it can be difficult to keep track of the attendees. Security officers can be very useful in monitoring the area and watching for any suspicious behavior.
8. Flea Markets
Many flea markets pop up during the summer time. Some are traveling, some are open for the duration of the summer, and some are every weekend in the summer. Regardless of the availability, these flea markets see large amounts of traffic during the summer months, with patrons shopping for a variety of items, many small in nature. The combination of this high traffic and eclectic assortment of items leads to an increase in the likelihood of shoplifting. Security officers can be very useful for this issue, as they can deter people from shoplifting and catch shoplifters in the act, ensuring that all sellers' merchandise is protected.
USI Security | Security Officer Training and Staffing
For the past 27 years, USI has created safe, secure environments for commercial and government employees and customers by investing in our people, innovation and relationships. As engaged owner-operators, our investment begins with recruitment and screening to ensure we have the right people and continues through our policies and practices that enable USI to properly train and retain the best personnel.

USI is engaged in supporting your security and business by developing customized security solutions that support your objectives while cost-effectively minimizing risk. Clients receive continuous support from a highly responsive team of professionals including owners, management, field supervisors and officers. Our commitment to quality includes field inspections and audits, as well as investments in innovative solutions for continuous training and compliance.