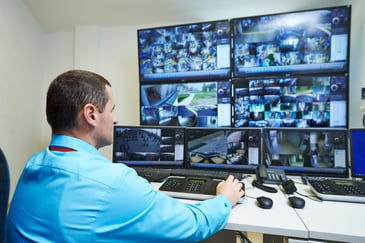 A few decades ago, a building owner could prove that they were security conscious simply by bolting the door before they left their business everyday; however, the times have changed. Both the information and products necessary to be protected have become more complicated, as have the methods used by criminals. A quick evaluation of the different threats that businesses face on a daily basis makes it simple for business owners to understand why taking concrete steps to protect their business security is crucial.Businesses should prioritize finding the right security equipment to ensure the safety of their employees and inventory.
Business owners can monitor and control their security system from anywhere using any web-enabled device by opting for remote access, or mobile security solutions.
We've briefly outlined the benefits of remote access monitoring and how businesses can use it in conjunction with smart technology to safeguard their most important assets.
24/7 Protection
One of the more popular benefits of a modern surveillance system is the ability to monitor footage remotely with a mobile app. There's a wide array of apps that allow a user to log into your system from anywhere with just a touch of your smart phone. Upon logging in, you will have the ability to view live and recorded video, control PTZ settings, search through past footage and manage alerts. To set up the app properly, you'll need to work closely with a security company and have an internet data plan as well as an IP address.
The best aspect of this feature is that you don't have to be on location to view and manage your security cameras, thus offering you and/or your security staff the ability to monitor and respond to issues whenever they may occur, even after hours or while you are on vacation. The added peace of mind that comes with remote monitoring can be the greatest benefit of all.
Monitor Multiple Feeds Across Multiple Locations
Also, you don't have to be limited to monitoring only one security camera remotely. If your building requires multiple cameras in seperate locations, you're in luck as you can monitor multiple camera feeds from across multiple locations. This is a popular feature for property managers who need to monitor multiple buildings.
This is incredibly useful when combined with a motion alert camera system-- you can be alerted if any of your cameras detect motion while your business is closed. In addition, you will get an email and/or text alert notifying you that one of your cameras detected motion.

Furthermore, you will also receive an image of the motion and / or a 2 minute video clip so you can see what is going on instantly. If you want to see more, you can remote in to the camera where the motion was detected and look around.

If you are in fact being robbed, you can notify the police from the comfort of your home and arrive at you business once you know the police have everything under control.
Less False Alarms
The overriding advantage associated with a remote monitored system is the fact that it provides visual confirmation to an operator regarding the cause of anyone specific activation. In turn, this lessens the likelihood of false alarms and allows the operator to orchestrate the fastest possible and most appropriate action.
When an alarm is triggered, the process begins and the images are transmitted to a central control room where the operator consults site plans to determine whether to issue audio warnings or alert the relevant emergency services. Audio warnings have been proven to act as a successful deterrent for a majority of cases, in terms of contacting the emergency services, the visual confirmation provided by the operator allows them to give the activation a priority response and increases the likelihood of the culprit of any trespass or theft committed on the property in question.
Monitored Alarm System Provides Peace Of Mind
Remote access can also assist business owners in detecting threats such as fires, high carbon dioxide levels or intrusion that could otherwise be detrimental to their employees and valuable assets.

Business owners can use remote access with their monitored alarm system to:


Schedule notifications in case of an emergency.
Arm or disarm security systems remotely.
Lock or unlock doors remotely
Controlling these security features with remote access creates peace of mind for business owners who can stay connected with their business, even when they are away.


There's A Wide Variety of Available Technology:
There are quite a few technologies which can be used to provide cost-effective business remote monitoring, including:

PTZ Cameras
Night Vision Security Cameras
Tamper Detection
Live Video Feeds
Monitored Alarm System
Cut Insurance Costs
Installing a remote-monitored surveillance system could have a positive impact on your insurance premiums, though the impact may vary depending on your provider. Essentially, if your insurance company can tell that your business has taken steps to reduce the likelihood of a break-in, they may offer you a reduction in your monthly premiums. If you're currently evaluating whether remote monitoring for a surveillance system is a good fit for your warehouse, ask your insurance company whether this will result in cheaper insurance.
United Security Incorporated | Private Security Company
We know every client's risks and business objectives are different requiring customized approaches, policies, procedures and requirements.

For over 30 years we have brought peace of mind to our clients through the careful application of investigative talent and technology implementation.

When it comes to the security of your building, it's best not to leave it up to chance. Be sure that you have made every effort possible to keep your property, employees, and visitors well protected. If you have any concerns, you should consider having your security measures evaluated by a reputable company.