With thousands of students a day rushing to their classes or hustling to get back to their dorms, it's especially important to ensure safety in such a fast paced environment. Keeping track of each and every student can be difficult so enhanced security is essential for college campuses. The biggest question is, how to increase security on college campuses and how to know if the security already in place is effective or not?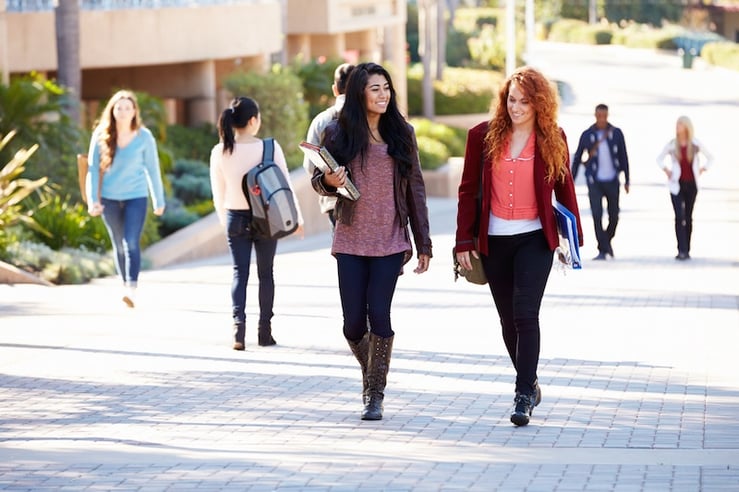 Make Sure All Lights Are In Working Condition
A flickering light may not be on the top of the security list but it's a small component that makes a big impact. When walking around campus at night, nothing generates a sense of fear like an unexpected dark area. Additionally, fear isn't the only worry to consider as a dark area on campus increases the chances of an incident occurring.

Get a group together to regularly scan the campus and look for any lights that are not working or point out any other security elements needing to be updated or fixed. Students have enough to worry about and should feel safe on campus.

Broken lights and poor security not only puts students at risk but can also tarnish a university's reputation. According to University Business, You should calculate the cost of the lighting against revenue lost from dropouts who feel unsafe on campus. Consider also the size of your evening college, and the revenue lost when adults are too nervous to park and walk. The risks and damaged repute can easily be avoided with the proper security and lighting.
Increase Security Patrols Around Campus
A 2014 study found that "campus police are marginalized by students, who perceive the officers more as security personnel than as sworn law enforcement officials" (Source). Although, these officers may not be perceived as such, they are required to have extensive training and some are even required to undergo the same training as traditional law enforcement.

Campus police used to be a simple way to heighten a security presence to enhance campus safety. Conversely, however, most colleges are increasing campus police and security guards due to the realization that heightened criminal activity can be reduced by the increase of well-trained officers patrolling various areas of campus.
Utilize Access Control Systems To Enter Buildings
With so many people a day occupying the campus, it can be difficult to monitor who is entering and exiting college buildings. With access control systems like a card reader, only the people who have an authorized card will be able to enter the premises. This system works when a card is used within a few inches of the reader. That reader will then calculate the identification information from the access card that was used.

The identification information, or card number, is sent upstream to the controller for processing. Once, the information is processed the system will either grant or deny access depending on credentials. It's also important to note that each reader can only talk to its corresponding card type due to the unique technologies used in each (Source).
Update Security Cameras Around Campus
If an incident were to occur, it's important to know what happened to eradicate the threat and take preventative measures to ensure the issue doesn't happen again. This is why not only having campus security cameras is a necessity but the technology should be regularly upgraded for the most effective student safety.
According to College Planning & Management, while many people think in terms of security cameras as a means for staff to monitor students and visitors, they can often be more helpful tools for improving and documenting proper human prevention efforts by campus employees. Cameras can be an excellent tool for campus administrators to use to spot-check and document that staff are properly positioned and/or patrolling different areas. While in-person evaluation is still a good idea, using a combination of these approaches is often more effective (Source).
Undergo A Campus Security Risk Assessment
The best way to know if your campus is applying the most effective security technology is to utilize a risk assessment of the of the entire college grounds. An assessment that analyzes each and every entry point, visitor access, hallway cameras as well as the resting areas will benefit the campus as you'll know the sections needing improvement. Not only can you see what areas require an upgrade but also have the opportunity to learn about innovative security technology that advances campus safety measurements altogether.
USI Security Incorporated | Security Technology And Services
At USI Integrated Solutions, we bring together a highly experienced team, keen strategic planning and in-depth understanding of the leading technologies in the field. For over 30 years we have brought peace of mind to our clients through the careful application of investigative talent and technology implementation.
Schedule a no-cost property evaluation to undergo an effective security risk assessment for your growing college campus.