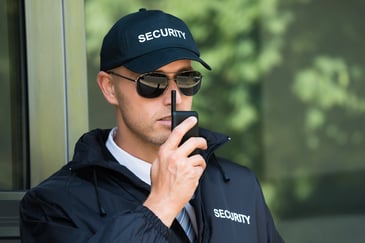 Security costs are arguably one of the more expensive necessities for running a modern business; yet many companies are seeking to cut costs and increase returns in the long-term. Fortunately, outsourcing security can help to cut costs and increase ROI. While many instances of outsourcing work, like call handling and cleaning are low-risk, low reward, handing over your company's security duties to another company can be overwhelming. This post provides a brief overview of the advantages associated with hiring a managed security service provider to provide security officers for your business.
Working To Create A Better Public Image
In a way, security officers take on a public relations role, as they represent an employer whenever they perform their typical protection duties. Consider this, they're often the first person a visitor, customer, vendor, or employee sees when they show up on the property. security officers play a public relations role when they perform their protection duties and represent an employer. The way that they treat people will have a marked effect on the initial impression made by the organization.
Less Of A Financial Hassle
When you hire your own employees, you have to take the time to manage their salaries, provide equipment, and stay compliance with the law, ensuring the income taxes and pension fund contributions are paid at source for your employees. Fortunately, a security company takes care of their employees, so you don't have to worry about this.

Some will argue that the cost of outsourcing security officers will cost too much; however, this is a misguided sentiment. A security agency saves you management time and financial hassle so you can focus more of your energy on your business.
You're Guaranteed Trained and Experienced Professionals
When you work with a security officer provider, you're guaranteed trained and experienced professionals who don't have a criminal background. You won't have to worry about wasting hours by taking interviews to hire security personnel, which is great, considering that you won't be able to tell a good security officer from a bad one (since you lack the experience). Security agencies have an efficient method for checking up on the credentials of a potential security officer and ensuring there is no criminal background.
Benefit From Security Company's Expertise
When you work with a security company, you have a wealth of resources available to you; that is, the staff members can advise you as to how many officers you'll require for your facility, where you should station them, and what type of officer tour system they should employ.
Shifting The Balance Of Control
It's a common misconception that outsourcing security leaves you with less control over the results. Surprisingly, it's the reverse: your collaboration with the security officer staffing company helps you grow control. When you aren't solely focused on security details, you can focus your energy on the bigger picture. You immediately have access to high-level expertise when you work with a professional company— expertise that would take months or years to build internally. Essentially, you allow experts to augment your internal team, as they apply industry best practices to your property.
There are a few things that may be out of your control, however. For example, you won't necessarily be able to set your own guidelines about your officer's uniforms, facial hair or tardiness. Of course, you can discuss these issues with the security provider, but it's not within your immediate control, typically. However, it's important to keep in mind that a reputable security officer company will do their best to work with you every step of the process.
United Security Incorporated | Security Officer Staffing Services
Planning and preparing for security officer staffing services is rooted in one essential task: assessing the facility first with an independent security consultant. This will allow facility managers to plan appropriately for where security services are needed, determining whether or not in-house or subcontracted services should be deployed and how then to maintain and increase the level of competency of those security services.